METROPOODLE BOOKS
'Peggy Lee Loves London' was first published in hardback in 2013. It's a photographic book with over 60 colour photos featuring my dog. From well known London landmarks like the Royal Albert Hall and The Barbican to a well loved fish bar in Notting Hill or a tattoo studio in Kentish Town – we've covered it.
We think this is a great quirky little guide to London, but don't just take our word for it – here are some press reviews:
'Peggy Lee Loves London: A new guidebook starring a pet dog' – THE GUARDIAN
'Singer releases pooch's ruff guide to London' – MAIL ONLINE
'See London like you've never seen it before…' – TIME OUT – London Blog
"Walkies on Sunshine' – METRO
'London's most unusual guidebook to date'  – THE LONDONEER
'A Wuff Guide To The Capital'  – THE LONDONIST
"It's a delightful book and if you're looking for a fun guide to London then look no further"  – THEGAYUK
TRAVEL GUIDES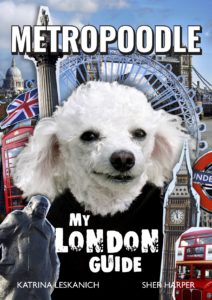 My London Guide (2018)
'My London Guide' is a photographic ebook with over 60 colour photos fronted by my dog who was a willing participant if the bribe was right. From a ham sandwich in Paul Rothe's family run Deli in Marylebone to a cream cheese beigel from Beigel Bake in Shoreditch. Or a hug from Mark Wilsmore who runs the legendary Ace Cafe which hosts classic car and bike events 364 days of the year.
**COMING SOON …
'Metropoodle: My Cornwall Guide' is more of a road trip around Cornwall in the South West of England. Cornwall was the home of writer Daphne du Maurier ('Rebecca' and 'Jamaica Inn'), the Cornish pasty and 'Poldark'. They all get a mention but we're mostly focussing on dog-friendly Cornwall – some absolutely stunning, award winning beaches, very old pubs, beach cafes, hotels, ancient monuments, local ales, tea rooms, fish and chips and crab sandwiches.